I was looking at a list earlier, of places around the world associated with relics of John the Baptist, and there were quite a few as you might imagine; places as far flung as Egypt and Bengal. One of the more surprising was the town of Halifax, which made me think of Nova Scotia, but it is in fact the town of that name in Yorkshire in England.
From Wiki:
Quote:
The name Halifax is said to be a corruption of the Old English words for Holy and Face, part of the local legend that the head of John the Baptist was buried here after his execution. The legend is almost certainly medieval rather than ancient, though the town's coat of arms still carries an image of the saint. (The oldest written mentions of the town have the spelling Haliflax, apparently meaning "holy flax (field)", the second "l" having been subsequently lost by dissimilation. ..... Halifax Minster, parts of which go back to the 12th century, has always been dedicated to St John the Baptist. The Minster's first organist, in 1766, was William Herschel, who went on to discover the planet Uranus.
This is the town coat of arms referred to above.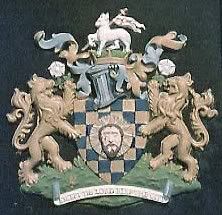 Given the fate of John the Baptist, something else this town is known for seems gruesomely apposite.
Quote:
Halifax was also notorious for the 'Halifax Gibbet', an early form of the guillotine used to execute criminals by decapitation, it was last used in 1650.
http://en.wikipedia.org/wiki/Halifax,_West_Yorkshire
Andrew Gough wrote:
He responded on the 7th of February to say:
"Found it..
Head of J Baptist
Saw it with own eyes. Absol no doubt its him."
One wonders how he can say such a thing. How would he, or anyone, have any idea what he looked like?
But an intriguing story, obviously. Hope to learn more in due course.
Will seems to have travelled some way from Oak Island.