This is an image of a Green Man in Winchester Cathedral. It is one of many.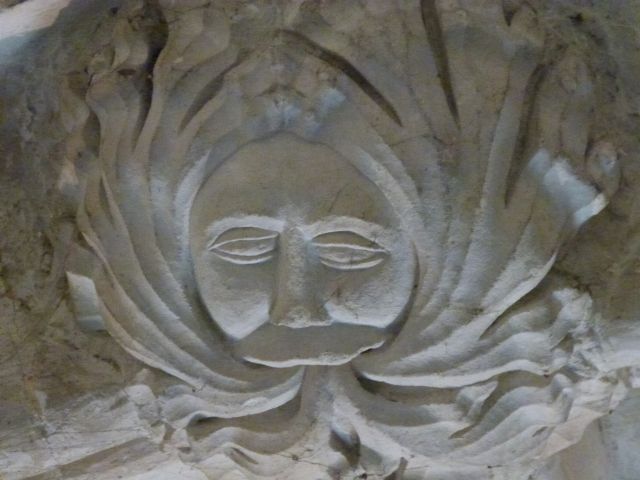 The cathedral at Winchester is notable for many things, particularly its architecture, and for having the longest nave of any Gothic cathedral in Europe. It is the burial place of St Swithun. Several Kings of Wessex, and of England before the Norman invasion are interred here, including Cynegils, King of Wessex from 611 to 643 and England's first Christian monarch, and Cnut (aka Canute), King of England from 1016 to 1035. Queen Emma of Normandy, wife of Ethelred the Unready, and later of Cnut, was buried here in 1052. The royal treasury was kept here, back when this was the capital of England. William II had his funeral here in 1100; Richard the Lionheart had his second coronation here in 1194; and in 1554 Mary I married Philip II of Spain here. Jane Austen, one of our most celebrated novelists, was buried in the Cathedral in 1817. It is a building absolutely steeped in history, some of it very unhappy, having been wrecked twice, first during the Protestant Reformation, and again by Cromwell's troops during the English Civil War.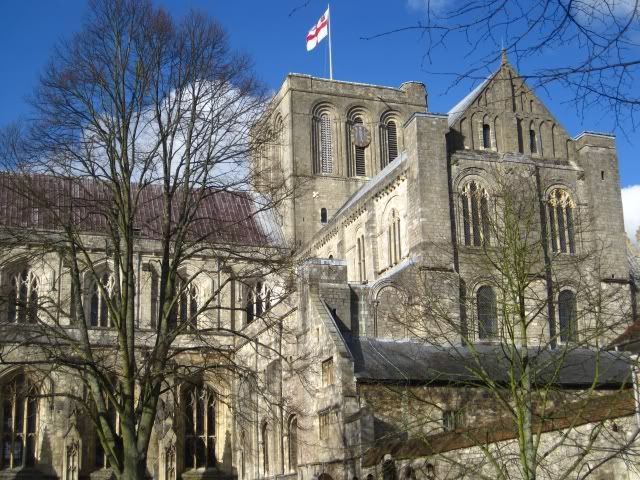 However, aside from all its better known architectural and historic treasures, the Cathedral contains many carvings of Green Men. These carvings, which appear in a great many Medieval buildings, and which are sometimes referred to as foliate heads, are seen as representing re-birth and resurrection, and are an echo of our pagan past. Their true meaning, however, remains something of a mystery.
Just how many of these carvings exist in Winchester Cathedral was something of which I was unaware, until I attended a recent Green Man tour. In fact, there are so many of them, the Cathedral custodians are not even sure of the exact number - some are ambiguous in their design, some are hard to see, high up in the vaulted ceiling of the nave - and they are often finding new ones. But it is estimated that the Cathedral contains between sixty and seventy Green Men (and Women).
This picture of the nave gives some idea of the building's vast scale, and how difficult some of the higher carvings can be to spot.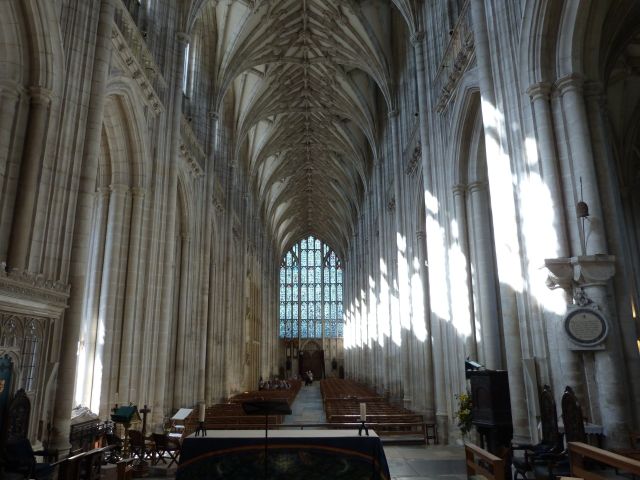 Fortunately, I took a camera with a very long zoom, otherwise many of the heads would have been quite indistinct, even when pointed out by our guide. The sheer number of them was quite remarkable, ranging from the large and dramatic one at the top of this post, to this little fellow, perched above the entrance to one of the chantry chapels.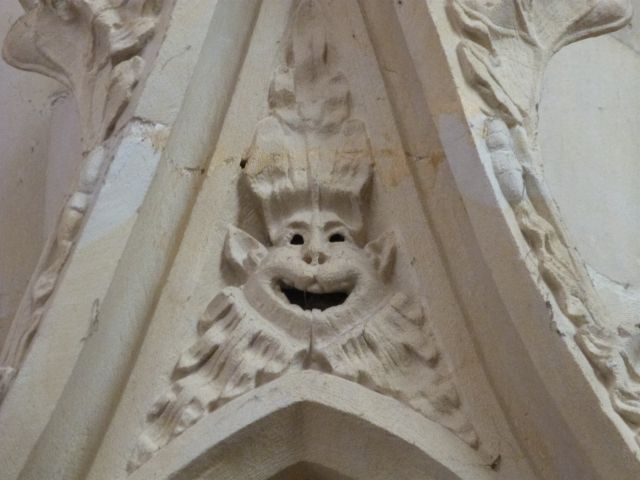 I shall add some further images, in a series of separate posts.